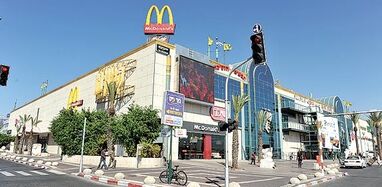 The Golden Mall(or The Gold Mall) is the 2nd largest shopping center in Israel.
Building Information
General
Building name: The Golden Mall
Type: Mall
Address: 21 Sakharov street, Rishon LeZion
Country: Isarel
Construction Ended: 1993
Nearby buildings:

UMI Building
Big Business Building
12-14 Moshe Levi street
Arei HaHof Mall
Elevator filming strategy
Photography:

Not Allowed

Security level:

Medium

Filming difficulty:

Medium
Elevator specifications
There are 14 elevators. 4 Isralift traction elevators from 1993, 1 Otis Gen2 MRL traction elevator from 2008 and 9 Kone MonoSpace MRL traction elevators from 2011.
London Wing scenic elevators
Paris Wing scenic elevator
Paris Wing service elevators
Roma Wing service elevator
Roma Wing scenic elevator
New Wing Scenic elevators
New Wing Internal elevators
New Wing Service elevators 1
New Wing Service elevators 1
Ad blocker interference detected!
Wikia is a free-to-use site that makes money from advertising. We have a modified experience for viewers using ad blockers

Wikia is not accessible if you've made further modifications. Remove the custom ad blocker rule(s) and the page will load as expected.