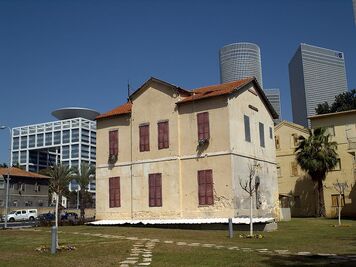 Sarona was an historic colony and currently a retail park in Tel Aviv.
Complex Information
General
Building name: Sarona
Type: Shopping complex
Address: Kaplan street and Manachem Begin street in Tel Aviv
Construction Ended of the historic village: In the 1880's.
Buildings renovation ended: 2014.
Nearby buildings:

Azrieli Center
Kalka Building
Tichon Tower.
Platinum Tower.
HaYovel Tower.
Elevator filming strategy
Photography:

In public spaces: Allowed.
In stores: Not Allowed.

Security level: Medium.
Filming difficulty:

In public spaces: Very Easy.
In stores: Hard.
Elevator specifications
There are around 13 elevators in the complex. Most of them are MP.
| Building/Store | Brand | Type | Year Installed | Status | Photography |
| --- | --- | --- | --- | --- | --- |
| Menachem Begin st. Entrance | Kfir | MRL Traction | 2013 | In service | Allowed |
| Castro | MP | | 2013 | In service | Not Allowed |
| Tommy Hilfiger | MP | Hydraulic | 2013 | In service | Not Allowed |
| Visitor Center | ThyssenKrupp | MRL Traction | 2013 | Not in service | Unknown |
| Building 111 | MP | Hydraulic | 2013 | In service | Allowed |
| Building 118 | MP | Hydraulic | 2013 | In service | Allowed |
| Building 124 | MP | Hydraulic | 2013 | In service | Allowed |
| Building 202 | MP | Hydraulic | 2013 | In service | Unknown |
| Building 203 | MP | Hydraulic | 2013 | In service | Allowed |
| 6 Kaplan street | MP | | 2013 | Not in service | Unknown |
| 18 David Elazar st. | Unknown | | 2013 | In service | Not Allowed |
| 9 Avraham Albert Mandler street | MP | | 2013 | Not in service | Allowed |
| Building 204 | MP | MRL Traction | 2013 | In service | Unknown |
| | | | | | |
| | | | | | |