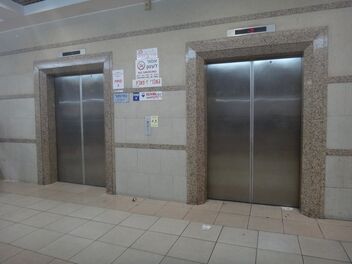 These elevators located inside the Gallery Palace Shopping Center in Holon
Elevator Specs
Manufacturer: Inter-Up
Type: Traction
Number of elevator banks: 2
Year installed: In the late 1990's.
Year commissioned: In the late 1990's.
Floors served: -2, -1, 0, *1*, 2 (5 floors)
Capacity:

Number of person: 42
Maximum load: 1800 kg

Current maintenance company: Unknown
Accesibility
Accessibility level: Good
Auxilliary panel for wheelchair: No
Additional Information
Ranking: Average
Exterior door system: Automatic
Inner door system: Automatic
Door safety system: Sensors
Hall lanterns type: Yes
Car floor indicator type: Dot matrix
Chimes/bells: Yes
Floor Announcements: Noo
Usage for: Public
Current status: In Service
Photography: Not Allowed
Filming difficulty: Medium
Ministry of Industry, Trade & Labor numbers: 114420 & 114421.
Ad blocker interference detected!
Wikia is a free-to-use site that makes money from advertising. We have a modified experience for viewers using ad blockers

Wikia is not accessible if you've made further modifications. Remove the custom ad blocker rule(s) and the page will load as expected.