Deutsche Bank Place, located at 126 Phillip Street is a skyscraper in Sydney, New South Wales. At a height of 240 metres, it is Sydney's 3rd tallest building and second in the world to have lass than 40 floors. It was built in 2005 for German banking firm Deutsche Bank.
Building Information
General
Building Name: Deutsche Bank Place
Type: Office building
Location: 126 Phillip Street, Sydney
District: Sydney CBD
Country: Australia
Construction ended: 2005
Elevator filming strategy
Photography: Allowed (low security)/Not Allowed (high security)
Security: High
Elevator Filming Difficulty: Medium (low security)/Hard (high security)
Elevator specifications
General
Brand: Otis
Manufacture: Skyway
Type: Hi-speed Traction
Capacity: 1700kg/25 persons
Speed: 7 metres per second
Floors served: 13
Floor layout: G, 23, 24, 25, 26, 27, 28, 29, 30, 31, 32, 33, 34
Installed: 2004/2005
Buttons (hall): Green Dewhurst Circle
Buttons (cab): Blue Dewhurst Circle
Floor indicator: Otis Series 3 ELD
Floor announcement: Otis Australian Male
Gallery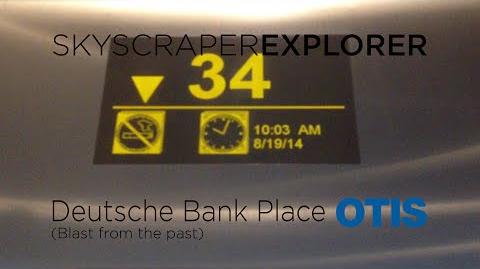 Ad blocker interference detected!
Wikia is a free-to-use site that makes money from advertising. We have a modified experience for viewers using ad blockers

Wikia is not accessible if you've made further modifications. Remove the custom ad blocker rule(s) and the page will load as expected.