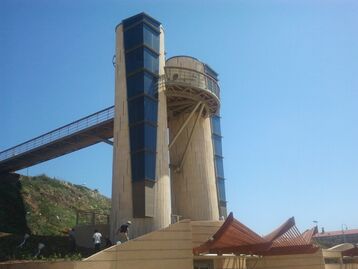 Acadia Beach is a beach in Herzliya, Israel. At the beach there is an elevator tower that built in 2012.
Building Information
General
Building name: Acadia Beach Elevator Tower
Type: Elevator Tower
Address: Ramat Yam street, Herzliya.
Country: Isarel
Construction Ended: in 2012.
Nearby buildings:

Arena Mall
Ritz-Carlton Hotel Herzliya
Orchid Ocean Hotel
Spa Shizan Hotel
Dan Achedia Hotel
HaSharon Hotel
Herzliya Medical Center
Elevator filming strategy
Photography: Allowed
Security level: Low
Filming difficulty: Very Easy
Elevator specifications
There are 2 Kfir traction scenic elevators that built in 2012.
Ad blocker interference detected!
Wikia is a free-to-use site that makes money from advertising. We have a modified experience for viewers using ad blockers

Wikia is not accessible if you've made further modifications. Remove the custom ad blocker rule(s) and the page will load as expected.